Conservation
The job of a museum conservator is complex, with many different areas of responsibility. At the Deutsches Historisches Museum (DHM) – with exhibitions and collections featuring the widest array of object materials imaginable – the remit of our conservators extends far beyond the conservation studio and involves much more than the constant preservation and occasional restoration of artefacts. They are involved in many different aspects of the day-to-day care and presentation of the artworks and historical objects at the museum. Our conservators lend their expertise to a complicated web of internal and external communication and organization that entails people from across departments pooling their knowledge in an interdisciplinary group effort.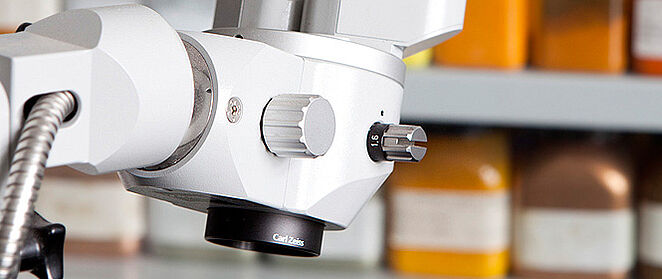 The Conservation Department of the DHM has a variety of specialized conservation studios to meet the different needs of the museum's diverse holdings. Today, the museum houses both the collections of the former Museum für Deutsche Geschichte (Museum of German History) and the acquisitions made by the DHM since its opening in 1987. The Museum für Deutsche Geschichte incorporated the holdings of the old Zeughaus (former royal armoury of Prussia) and the entire collection was transferred to the DHM in 1990, in an agreement made with the Council of Minsters of the German Democratic Republic.
The DHM's main priority is to conserve its collection for future generations. We continually study and research our collection behind the scenes, while a rotating selection of objects is permanently on display. Our conservators are responsible for the care of all items in the collection, whether in storage, in transit, on exhibit, or on loan, and have the expertise to determine the current condition of an object and how it should best be handled.
Our conservation team ensures that the right conditions are in place to prevent damage to an object wherever it is located. These include exposure to light and lighting levels in the galleries, relative humidity, and air quality as well as the appropriate presentation of objects in exhibitions. The museum-quality presentation of textiles, metal, paper, and leather-bound books is just one of the many areas requiring specialist knowledge and experience.
The team is also responsible for researching the materials, analyzing the authenticity of objects in the collection, dating, and determining the condition and effects of ageing on the works. The results of these analyses help determine which conservation or restoration treatments are necessary and appropriate.
The real meaning of many objects only becomes clear when we see them in their historical context. One distinctive feature of the job of a conservator at a history museum is to take a closer look at this context when doing any work on an object.
The Conservation Department is located in the archive building on Geschwister-Scholl-Straße and is staffed by a total of 16 permanent conservators, various project-based conservators and assistants, and one specialist solely responsible for matting and framing.