Painting Conservation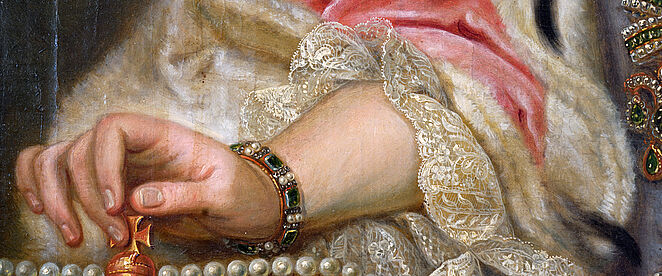 The painting collections at the Deutsches Historisches Museum (DHM) span the 14th to 21st century, which makes the work of the Painting Conservation Studio highly varied. As new acquisitions are continually added to the collection, our initial analyses and condition reports are often conducted without any details about the history of the artwork. Documenting painting techniques, the condition of the painting, and past restoration work is an important part of this phase. Usually, little is known about any prior treatments that have been carried out.
Initially in the Middle Ages, ungrounded fabric was traditionally used for painting supports, later grounded wood panels became more common, and later again, in the early modern period, grounded canvas. Other materials such as metal, parchment, ivory, paper, or card were seldom used. The degradation of pigments and glazes over time has a significant impact on the legibility of a work. A damaged painting can generally never be returned to its original condition even after extensive remedial work. With this in mind, it can be challenging to decide what should be restored and when to preserve a painting as it is.
In 2002, the DHM received a large collection of paintings from the federal government, known as the "German War Art Collection" that originally belonged to the Reich Chancellery under Adolf Hitler. It has not been shown to the public for a long time. When dealing with objects that have a chequered history, it is even more important than usual to carefully consider the circumstances before deciding what measures need to be undertaken and the extent to which aesthetic concerns should play a role.
The painting conservators at the DHM are also responsible for the preservation and restoration of the museum's small collection of polychrome wooden sculptures.