Library
The Library of the Deutsches Historisches Museum is both a research library for museums' staff as well as a special public library on German history within its European context. It also holds the manuscripts collection of old and rare books of the Deutsches Historisches Museum.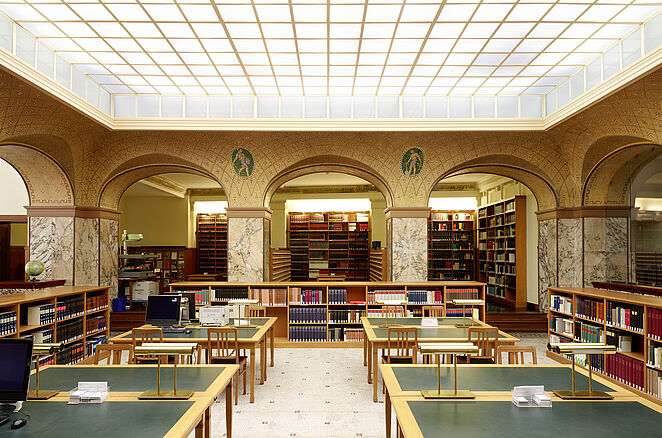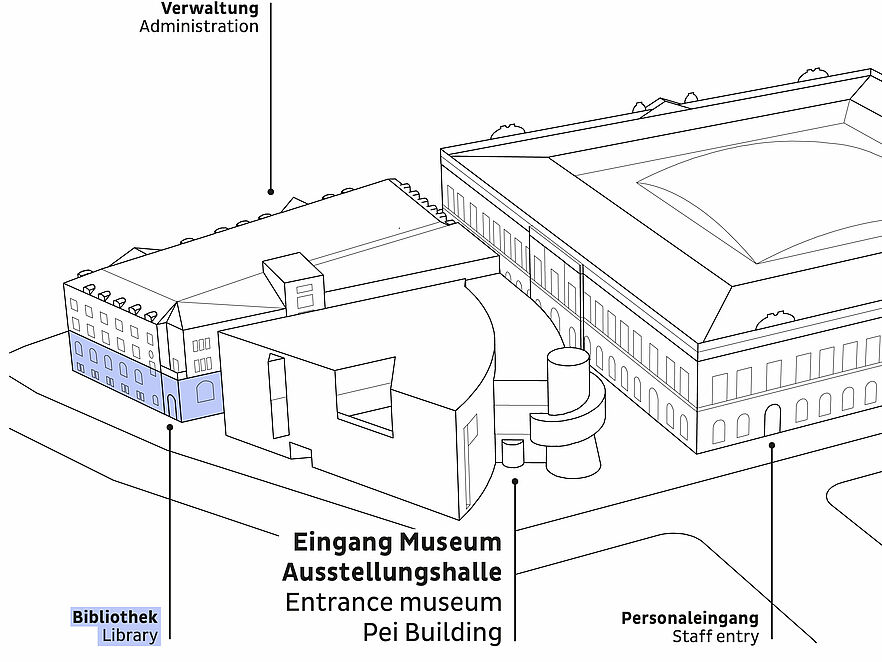 Use and Service
Opening hours and Contact
Monday to Friday 9 am to 3 pm
Wearing a medicial or FFP2 mask is recommended. Please follow the generally applicable distance and hygiene rules.
Entry: Hinter dem Gießhaus 3, 10117 Berlin
Postal adress: Unter den Linden 2, 10117 Berlin
Tel. +49 (0)30 20304-321
Fax +49 (0)30 20304-329
bibliothek@dhm.de
Literature Research
All books in the libraries of the Deutsches Historisches Museum, the Foundation Displacement, Expulsion, Reconciliation, and the Allied Museum Berlin are registered in a common OPAC. Not only books, but also periodicals can be researched there.
In addition, objects from the collection Manuscripts – Old and Valuable Prints of the Deutsches Historisches Museum are registered in the object database. To begin searching in the OPAC, please first select your respective location:
Issuing
The Library of the Deutsches Historisches Museum is a reference library. External users can use all of the inventories in the reading room. All items taken out must remain within the building.
Reading room
The reading room of the Library of the Deutsches Historisches Museum is an architectural gem. It is housed in the former cashier's hall of the Prussian Centralgenossenschaftskasse (central bank) which was headquartered in this building from 1896 to 1945. The reading room miraculously survived the War and is today still very much as it was back in 1908.
The reading room (with 16 desks) contains general lexicons, as well as reference books and fundamental works on all ranges of topics. The inventory includes around 5,000 volumes.
A special book scanner is available to make copies without damaging the books.
Acquisition suggestions
If there are books which you would like to see included in our collection, please fill in the acquisition suggestion form in the OPAC. Please provide as much detailed bibliographic data as possible and state the ISBN.
New Acquisition Lists
Each month, the Library of the Deutsches Historisches Museum publishes lists of the previous month's new acquisitions. The latest new acquisitions list can also be found in the OPAC.