About us
The Deutsches Historisches Museum (German Historical Museum) is Germany's national historical museum. Located in Berlin's historic district of Mitte, it sees itself as a place for strengthening historical judgement, where overarching philosophical, ethical and historical questions are negotiated.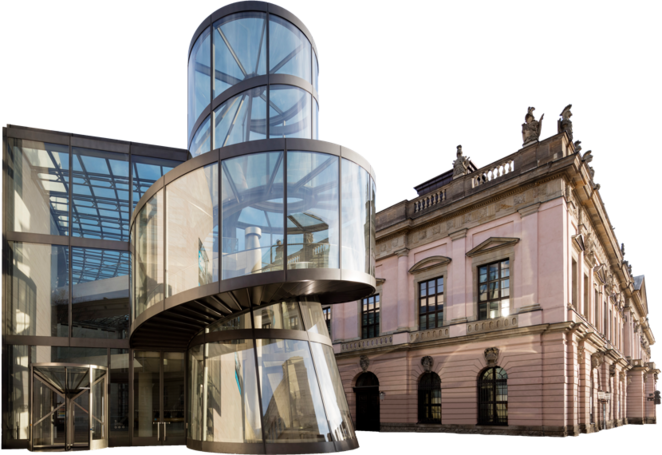 The Deutsches Historisches Museum was founded by the Federal Republic of Germany and the Land Berlin in 1987 on the occasion of the 750th anniversary celebration of Berlin. The buildings and collections of the Museum für Deutsche Geschichte (MfDG), the central historical museum of the GDR, were transferred to the ownership of the Deutsches Historisches Museum within the framework of the contract on German reunification. Thus with reunification in 1990, the Deutsches Historisches Museum became the museum for the history of all parts of Germany.
The Zeughaus is being renovated and in the coming years, as we will develop a new Permanent Exhibition. The museum's exhibitions can be seen in the Pei Building. They are devoted to formative historical events, epochs and social developments.
The collection of the Deutsches Historisches Museum now comprises some 1,000,000 objects.
The Deutsches Historisches Museum also has a public Reference Library with an extensive department of manuscripts as well as old and valuable prints.
Independently of the museum visit, the DHM blog with digital formats offers the opportunity to learn more about the exhibitions and thematic focuses, to discover new things, to inform oneself and to gain an exciting insight into the museum's work.
The Lebendiges Museum Online (LeMO), a cooperation with the Haus der Geschichte der Bundesrepublik Deutschland in Bonn and the Federal Archive, is an online portal in German. It offers sound historical information as well as a large collection of textual and visual sources on European history from 1815 to the present day.
The Zeughauskino in the Pei Building with its collection of historical film material shows thematic and monographic film series from the entire spectrum of German and international film history. This includes programmes linked thematically to the respective temporary exhibitions. It is also a venue for numerous festivals and film days.