Layers of Time
German history through the lens of the Berlin Zeughaus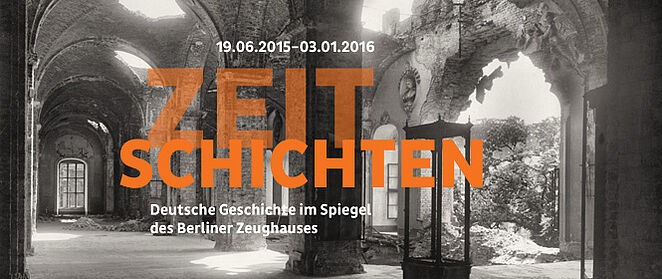 9 June 2015 to 3 January 2016
An intervention in the German Historical Museum as part of the programme "International Museum Fellowship", funded by the Kulturstiftung des Bundes.

For over 300 years the Berlin Zeughaus has served as a central site for the self-representation of the Prussian state and German nation. Over that time, it has represented radically different ideological and political agendas. Its own history is intimately linked to the history of Germany and at the same time, since the opening of its first museum spaces in 1831, the Zeughaus has presented that history through its unique collections.
As a temporary intervention in the permanent exhibition of the German Historical Museum, the exhibition "Layers of Time" engages with the successive histories of the Zeughaus. Utilising a series of simple, but immersive, viewing devices placed throughout the Zeughaus the exhibition presents rarely seen images from the museum's archives and collections. These allow visitors to directly compare the past with the present. A small selection of objects has also been returned to the exhibition halls in which they once stood. In this way, the exhibition offers a fascinating journey into the history of the museum and prompts reflection on the relationship between the museum, its collections and the construction of divergent visions of the German nation across time.
Exhibition flyer
Download (PDF)
Pictures from the exhibition