Art from the Holocaust
100 works from the Yad Vashem collection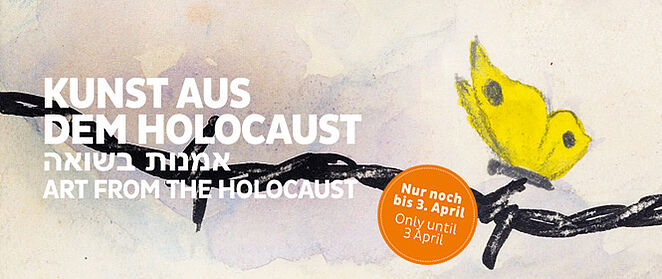 26 January to 3 April 2016
In collaboration with the Foundation for Art and Culture, the German Historical Museum is exhibiting 100 art works from Yad Vashem, the World Holocaust Remembrance Center in Jerusalem, for the first time in Germany. The exhibition represents the culmination of events marking 50 years since the establishment of German-Israeli diplomatic relations. This is "hitherto the largest presentation of artworks from the Yad Vashem collection outside Israel, and should be cherished as an invaluable symbol of friendship. Located in Jerusalem, Yad Vashem is Israel's official Holocaust memorial centre, whose museum is dedicated to presenting the history of the Shoah and its academic documentation.
Created under inhumane conditions in the utmost secrecy, the largely graphical works on view originate from the Jewish inmates of various concentration camps, labour camps and ghettos. They attest to the power of the human spirit in the face of adversity and death, and to the conflict between the reality of the Holocaust and an imaginary counter-world. In an uncompromising act of resistance the artists drew and painted in mortal danger. Some vividly portray the atrocities and humiliations they had to endure, while others seek to counter the relentless dehumanisation by highlighting the individual and the inner spiritual life.
From the 50 artists featured, 24 were murdered by the National Socialists. Alongside the largely unknown names, acclaimed artists such as Felix Nussbaum and Ludwig Meidner are also represented. The works are classified into themes and range from depictions of the daily atrocities in the camps to the evocation of an idyllic counter-reality. These are augmented in the exhibition by the biographies of the artists who are inextricably associated with the works.
A collaboration between the Bonn-based Foundation for Art and Culture (Stiftung für Kunst und Kultur e.V., Bonn), the Deutsches Historisches Museum and the Yad Vashem. Curators of the exhibition were Eliad Moreh-Rosenberg (Yad Vashem) and Walter Smerling (Foundation for Art and Culture). The project has been initiated by the media partner BILD and the Foundation for Art and Culture and made possible by Daimler AG and Deutsche Bank AG.
Exhibition flyer
Download (PDF)
Pictures from the exhibition