Sugar bowl with the figure of an african woman
Königliche Porzellan Fabrik Meissen, around 1740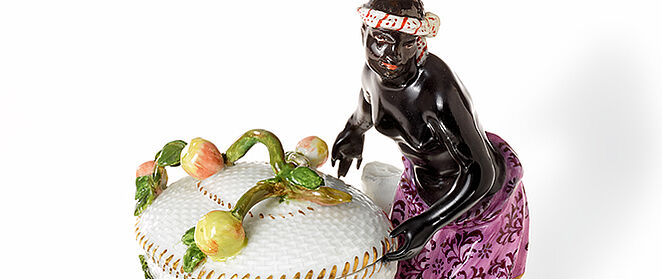 The exhibition
In the exhibition 'German Colonialism. Fragments Past and Present', featuring more than 500 exhibits, the Deutsches Historisches Museum addresses various aspects of German colonialism for the first time. Although the German Empire was one of the major European colonial powers from 1884 until the end of the First World War, it is only in the past few years that the colonial past has increasingly begun to enter public consciousness in Germany. The exhibition offers fascinating insight into the interests, development and dynamics of German colonial history and tells of the scope of action within which a broad spectrum of German, African and Oceanian players pursued their aims and motives. The multifarious power relations in the colonies ranged from local alliances and the daily exercise of violence to the colonial war in Namibia, which culminated in genocide.
Sugar bowl with the figure of an african woman
As Spanish colonial rule expanded in the Americas, sugarcane began to be produced on plantations using forced labour from local inhabitants. When the population declined due to hardship and disease, the colonial government arranged for the procurement of African slaves. This led to a triangular trade configuration across the Atlantic: arms or textiles were shipped from Europe to Africa; slaves were brought from Africa to the Caribbean or Brazil to work on plantations; and sugar or raw materials were sent from the Americas to Europe.
Sugar was a luxury item in Europe until the early 19th century. It was a status symbol, as shown by this Baroque bowl. The African woman illustrates its origin and conditions of production, and the exotic rendering of the woman reveals European notions of dominance.