Multicultural
Germany, a country of immigration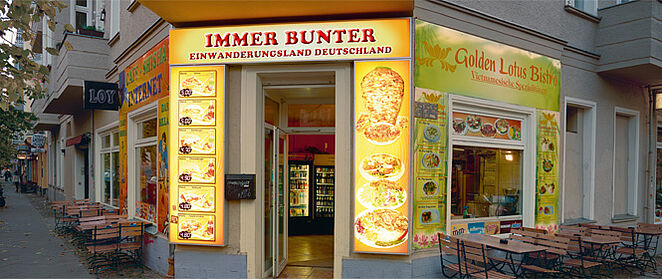 21 May to 16 October 2016
The debate about migration is currently approaching a new climax, but immigration and its consequences are not a new phenomenon in Germany. The exhibition "Multicultural. Germany, a Country of immigration" charts the historical course of recent migration movements in Germany, from the arrival of "guest workers" in the 1960s to the migration of refugees today. It explores the traces of the concomitant transformation of society as well as the discussions and social tensions that these developments have caused.
With around 800 objects the exhibition sheds light on the different facets and stages of immigration and on its very different faces and the stories behind it, from the motorbike of the one-millionth guest worker and the costume of the first black carnival prince to the gas bottles of the failed railway plot of the "Suitcase bombers of Cologne". The exponents testify to the variety of everyday cultures and ideologies, to the changes in dealing with migration, but also to conflicts and acts of violence. The exhibition examines the discussion about integration and assimilation, identity and nationality, interaction with foreign cultures and religions and national identity, and at the same time looks into parallel societies, xenophobia and Islamophobia.
"Multicultural. Germany, a country of immigration" is an exhibition of the Haus der Geschichte der Bundesrepublik Deutschland Foundation, which the Deutsches Historisches Museum expands to include positions taken towards the current wave of refugees. Thus the exhibition "Multicultural" builds on the previous exhibitions "Germany: A Country of Immigration: Migrations 1500/2005" and "Germany – A Country of Immigrants: The Huguenots", which the Deutsches Historisches Museum presented in 2005/2006. Supplementing the exhibition will be a programme of events and discussions and a richly illustrated companion book.
An exhibition of the Haus der Geschichte der Bundesrepublik Deutschland Foundation in the Deutsches Historisches Museum