The Crossbow – Terror and Beauty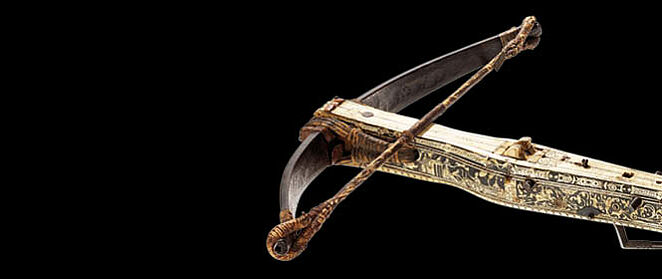 20 September 2019 to 8 March 2020
From the collections of the Deutsches Historisches Museum
Despite all post-war losses, the Deutsches Historisches Museum owns one of the most important crossbow collections in the world. The impressive and very valuable pieces, such as the crossbow of Emperor Maximilian, date from the 15th to the 20th century.
The Deutsches Historisches Museum presents the weapon's development and its societal functions. Crossbows were used as weapons of war in the Middle Ages, and later as hunting weapons. But they played their principal role as shooting weapons in the cities and the princely courts. Professional crossbow makers produced weapons of great technical and decorative quality. In the Renaissance and Baroque periods, crossbows were adorned with iconographic symbols. Shooting clubs, particularly in the cities of the Holy Roman Empire, took on an important social role, and their gatherings and festivals were part of urban self-representation.
The exhibition addresses the crossbow's development and its societal functions largely by means of weapons from the collections of the Deutsches Historisches Museum. The exhibition is accompanied by a scholarly publication with numerous essays about the significance of the museum's collection.
Flyer
Download (PDF)

Audio guide
in English and German
€ 3 plus admission
VIEW INTO THE EXHIBITION