Colon figure: officer
Nigeria or Cameroon, around 1900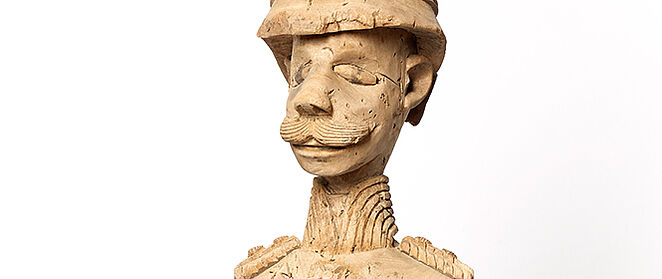 The exhibition
In the exhibition 'German Colonialism. Fragments Past and Present', featuring more than 500 exhibits, the Deutsches Historisches Museum addresses various aspects of German colonialism for the first time. Although the German Empire was one of the major European colonial powers from 1884 until the end of the First World War, it is only in the past few years that the colonial past has increasingly begun to enter public consciousness in Germany. The exhibition offers fascinating insight into the interests, development and dynamics of German colonial history and tells of the scope of action within which a broad spectrum of German, African and Oceanian players pursued their aims and motives.
Colon figure: officer
The collections and archives consulted and selected for the exhibition German Colonialism – Fragments Past and Present, and the questions and categories on which the exhibition is based, are deeply informed by European views of the colonized.
One genre of objects that reverses this viewpoint, opening up new possibilities, is the colon carving. Testifying to changed power relations from the late 19th century on, these masks and figurative sculptures of Europeans turn an African and Pacific gaze onto colonial rule, its symbols and personnel. They interpret peculiarities of the Europeans such as bodily stance, poses of domination, headgear like the pith helmet, everyday observations, and the individual features of the people portrayed.
The repertoire also includes African soldiers in the service of the colonial power. In 1937, while in exile in the United States, the German anthropologist Julius Lips published a pioneering study of these colon figures, polemically titling it The Savage Hits Back, or The White Man through Native Eyes. Lips brought together extensive visual material from more than 50 public and private collections for his book. His reading of the images – which he saw as carrying an anticolonial and satirical potential – was shaped by the political circumstances of his day.
The art market discovered colon carvings in the late 1970s, and in the 1980s a new debate on the genre began. In the course of these analyses, Lips's book was criticized for its generalizations and was regarded more as a historical document of Nazi persecution. The focus of interest in these representations of Europeans also shifted to the multiple functions they may play in their originating societies.