Fold-out postcard 'Souvenir of Tsingtau'
China, around 1904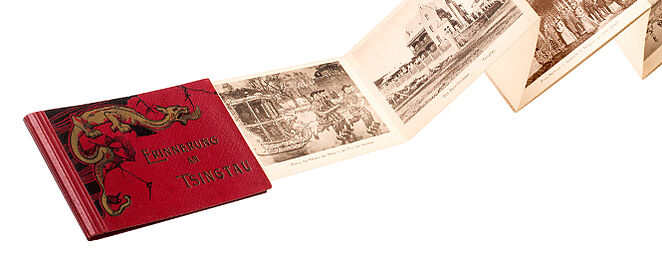 The exhibition
In the exhibition 'German Colonialism. Fragments Past and Present', featuring more than 500 exhibits, the Deutsches Historisches Museum addresses various aspects of German colonialism for the first time. Although the German Empire was one of the major European colonial powers from 1884 until the end of the First World War, it is only in the past few years that the colonial past has increasingly begun to enter public consciousness in Germany. The exhibition offers fascinating insight into the interests, development and dynamics of German colonial history and tells of the scope of action within which a broad spectrum of German, African, Oceanian and Chinese players pursued their aims and motives.
Fold-out postcard 'Souvenir of Tsingtau'
The Imperial Navy planned to establish a base on the Chinese coast. To this end, the Chinese and German Empires signed a lease agreement in 1898, valid for 99 years, for the Kiautschou Bay (Ziaozhou Bay) territory on the Shandong Peninsula on the east coast of China. Kiautschou was supposed to become a 'model colony' in Asia and thus justify German rule. The German Imperial Naval Office designed the planned city of Tsingtau/Qingdao with strict separation between the Chinese and European residential areas. Under the pretence of hygiene, Chinese people were forbidden to live in the quarters reserved for Europeans. The segregation was based on racist attributions: they depicted the Chinese as less clean and on a lower cultural level than the Europeans. But the colonial order collapsed under the actions of the Chinese, who subverted the regulations in many different ways. The fold-out postcard documents the situation of urban construction in Tsingtau as well as the social life in the area of the Kiautschou Bay concession. Great numbers of such objects were purchased as souvenirs by the German marines.