Tigerfork (Fu Pa)
China, 19th century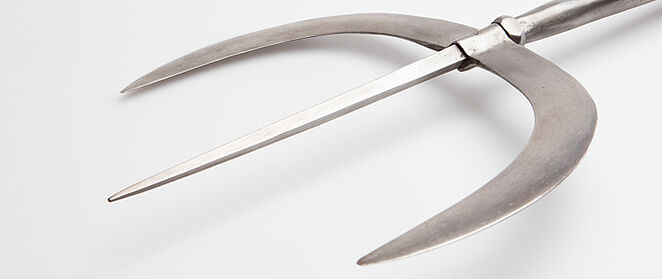 The exhibition
In the exhibition 'German Colonialism. Fragments Past and Present', featuring more than 500 exhibits, the Deutsches Historisches Museum addresses various aspects of German colonialism for the first time. Although the German Empire was one of the major European colonial powers from 1884 until the end of the First World War, it is only in the past few years that the colonial past has increasingly begun to enter public consciousness in Germany. The exhibition offers fascinating insight into the interests, development and dynamics of German colonial history and tells of the scope of action within which a broad spectrum of German, African and Oceanian players pursued their aims and motives.
Tigerfork
At the end of the 19th century, imperial Germany tried to emulate other European nations in stabilizing its economic and strategic interests in China by acquiring a permanent trading and naval base. After lengthy discussion, the Bay of Kiauchau/Jiaozhou was chosen.
In 1897 the Imperial German Navy used the murder of German missionaries as a pretext to occupy the bay. A 99-year lease agreement was signed on6 March 1898. Whereas some officials in the Foreign Office and the Imperial Navy were hesitant, Kaiser Wilhelm II enthusiastically supported the annexation of Kiauchau. Almost immediately, in May 1898 he ordered several Chinese weapons that had been captured as booty – including a tigerfork and a broadsword – to be sent as trophies to the Berlin Arsenal, which was the main Prussian army museum in those times.
The inventory register noted that these weapons came from 'Yamen', the official headquarters of the local Chinese commanding officer, where they had been displayed as insignia until the occupation by German soldiers. The directorialassistant at the Royal Museum of Ethnology in Berlin, Friedrich Karl Wilhelm Muller, gave the seal of approval, justifying the capture of the broadsword by saying that it had been a Chinese war weapon for almost 2,000 years. The Chinese weapons not only symbolize the personal role of the Kaiser in the annexation of Kiauchau; they were also subsequently used by the director of the Arsenal, Edgar von Ubisch, to refute the Prussian War Ministry's objections to extending and globalizing the Arsenal's concept of collection.
The plan was to broaden the collection from its narrow focus on weapons from the history of Prussia and Brandenburg with the emphasis on Europe to include weapons from East Asia and the world as a whole.