Craving for New Pictures
From Broadsheet to Comic Strip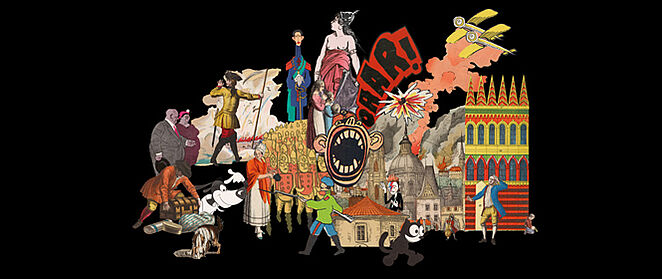 29 September 2017 to 8 April 2018
People have always had a great thirst for sensational news, political caricatures and humorous articles. When the term "newe Zeittung" (new tidings) first came about in the 16th century, it originally referred to an item of news or information that could also be communicated by word of mouth. It was only when broadsheets were printed in the middle of the century that the term corresponded to our current print media – whereby publications with pictures were always the most popular ones.
The exhibition on the early history of journalism presents three different business models for the production of broadsheets, which hardly changed in the time between the 16th and early 20th centuries. The stories offered the sensational press – such as pictures of natural disasters or the latest news from aristocratic circles – were aimed at a wide audience. Biting satirical pictures, on the other hand, such as those employed in the struggle for the "true" faith or against censorship and oppression, were directed towards a readership with special political interests. And finally customers who delighted in instructive or humorous entertainment often bought such publications for their offspring. From a present-day perspective, there are striking parallels with the current tabloid press, the constant ideological clash of images in the media and the more demanding articles in the arts and features sections.
The exhibition shows a selection of 180 original illustrated news sheets from the huge collections of the Deutsches Historisches Museum, supplemented by entire picture sequences that can be viewed at the media stations.
Flyer to the exhibition
Download (PDF)
Audio guide
in German and English
€ 3 plus admission
View into the exhibition