Barrier-free and inclusive programmes
The Deutsches Historisches Museum would like to make the exhibition "Saving – History of a German Virtue" accessible to as many people as possible.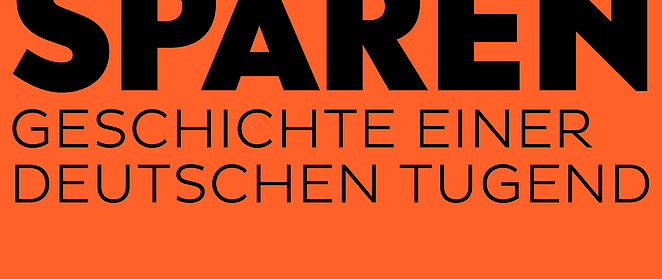 Exhibition for everyone
The exhibition addresses many different senses and invites visitors to see, hear and touch objects at different stations. The design is largely barrier-free. All exhibition texts are in German and English. The main texts are also available for blind and visually impaired people in German Braille and large print in black-on-white as well as white-on-black, and in Easy Language for people with learning difficulties, as well as in German Sign Language for deaf people. These offers are correspondingly indicated in the texts. The objects are displayed at different heights, and most showcases are accessible to wheelchairs. The high contrast of the colours makes them easier to see.
Inclusive Communication Stations (ICS)
A tour passing all of the seven "Inclusive Communication Stations" (ICS) in the exhibition is available. The objects, models and media take up the main themes of the exhibition and communicate them interactively for visitors without prior knowledge of the topic. Every station addresses several different senses, so that people with partly impaired senses can profit from them. The textual information is available on a six-sided, rotatable text drum, offering German, English, Easy Language, Braille and German Sign Language and encouraging an exchange of ideas among visitors. All stations have a holder for guide canes and long canes.  
Guide system and aids
A tactile floor guide system allows blind and visually impaired people to find their way on their own passed the room texts and seven Inclusive Communication Stations. The guide system begins at the entrance to the Exhibition Hall and leads to the ticket counter, the audio devices, the cloakroom, the entrance to the exhibition and to the toilets. At the entrance to the exhibition, a tactile layout play helps to find one's orientation in the exhibition space. A description of the exhibition architecture is available in an audio version and in German Braille. Rollators, wheelchairs and folding stools can be borrowed at the cloakroom.
Audio guide
The audio guide is available in German and English.
Inclusive tours on Thursday
The public tour on Thursday encourages an exchange of ideas among the tour participants and has additional offers as well: In the tour on the first Thursday in the month the objects will be described more extensively; on the second Thursday the tour and the discussions will be translated simultaneously into German Sign Language; and on the third Thursday in the month the tour is in Simple Language. These inclusive Thursday tours all start at 4 pm.
The additional inclusive offers can also be booked for groups.