History
The museum should be a place of contemplation and knowledge through historical memory. It should inform and moreover stimuate the visitors to question history and should offer answers to their questions. It should inspire critical discussion, but also enable understanding and offer possibilities of identification. Above all the museum should help the citizens of our country to gain a clear idea of who they are as Germans and Europeans, as inhabitants of a region and as members of a worldwide civilisation, where they come from, where they stand, and where they could be headed. (Final concept of the Expert Commission for a Deutsches Historisches Museum in Berlin, presented on 24 June 1987)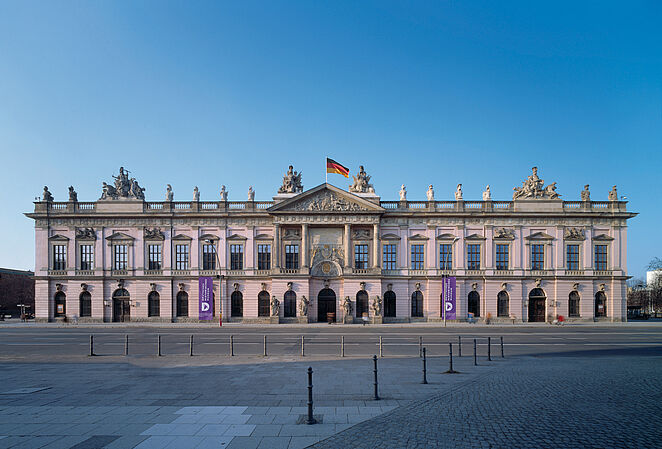 The concept for a Deutsches Historisches Museum with these objectives was preceded by a heated cultural-political and historical debate. There were extremely differing perceptions among scholars, politicians and the media about the meaning, mandate, purpose and chances of a museum for German history in an international context.
In 1987, on the occasion of the 750th anniversary celebration of Berlin, the founding document of the Deutsches Historisches Museum was signed by then Federal Chancellor Helmut Kohl and Berlin's Governing Mayor Eberhard Diepgen. The foundation stone was laid in the Spreebogen, the bend in the River Spree – the present location of the Federal Chancellery.
On 3 October 1990, in the course of German reunification, the Federal Government transferred to the still young Deutsches Historisches Museum the buildings and collections of the Museum für Deutsche Geschichte (MfDG), the central historical museum of the German Democratic Republic, which had closed its doors in September 1990. Thus the Zeughaus (Armoury) from 1695, the oldest and most splendid building on Unter den Linden, became the seat of the Deutsches Historisches Museum .
In 2003 the Exhibition Hall designed by the Chinese American architect I.M. Pei was opened. This not only greatly expanded the exhibition surface area of the German Historical Museum, but also created an impressive modern addition to the Baroque Zeughaus. Here the Deutsches Historisches Museum presents its temporary exhibitions.
In 2009 the Deutsches Historisches Museum, which had up until that time been a limited company under the public ownership of the Federal State and the Land Berlin, was turned into a foundation. In addition, the Deutsches Historisches Museum Foundation is now responsible for the administration of the non-independent Foundation Flight, Expulsion, Reconciliation and member of the association responsible for the Allied Museum as well as the German-Russian Museum Berlin-Karlshorst.
Today the German Historical Museum has a staff of 210 employees, of whom around 75 have fixed-term contracts.