MARX AND WAGNER.
Capitalism and German Sentiment
23 April 2021
3rd symposium in our series "Historical Judgement"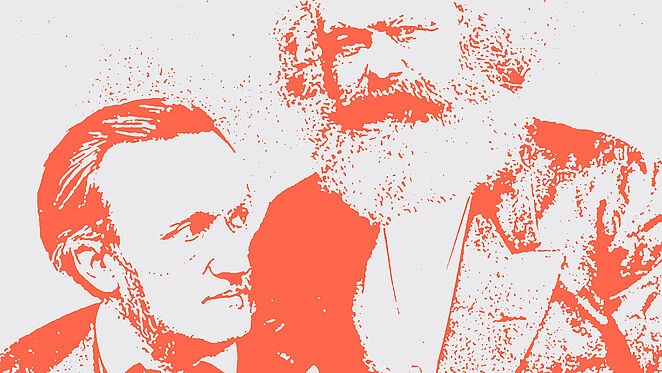 Programme
14.00 - 14.45
WELCOME
Prof. Dr. Raphael Gross, Deutsches Historisches Museum, Berlin
IMPULSE
On the Iconography of Marx and Wagner


Dr.

Sabine Beneke
14.45 - 16.00 PANEL I: REVOLUTION
From "Mammon" to

"Capital".

Marx and Wagner as Contemporaries in the Age of Revolution
Dr. Gerd Koenen
"A strange twist of fate". Richard Wagner, Karl Marx, and the

Turning

Point of 1933 through the Eyes of a Liberal with Marxist Roots
Prof. Dr. Christina Morina
Moderation: Dr. Kristina Meyer
16.00 - 16.30: BREAK
16.30 - 17.45 PANEL II: ANTISEMITISM
Wagner's Antisemitic Legacy
Prof. Dr. Pamela Potter
Marx and Wagner and the Framing of Language and Thought in Modern Antisemitism
Prof. Dr. Leon Botstein
Moderation: Prof. Dr. Christine Achinger
17.45 - 18.30 PANEL III: ALIENATION
In conversation: Prof. Dr. Rahel Jaeggi, Prof. Dr. Harold James, Prof. Dr. Alexander Kluge and Prof. Dr. Thomas Macho
18.30 - 19.00 BREAK
19.00 - 20.30 KEYNOTES
Karl Marx as Anti-capitalist. Revolution, Alienation, "Jewish Question"
Prof. Dr. Jonathan Sperber
Richard Wagner as ideologue. Alienation and redemption
Prof. Dr. Michael P. Steinberg
Moderation: Prof. Dr. Raphael Gross
The lecture series of the Deutsches Historisches Museum "Historical Judgement" is supported by Dr. Christiane and Dr. Nicolaus Weickart.
Historical Judgement. Magazine of the Deutsches Historisches Museum